An article appeared on the WIRED site recently about the re-branding of RadioShack, a mirror of the same change happening to Australia's iconic Dick Smith Electronics stores. The subtitle sums it up: 'Tinkerers Search for New Spiritual Home'.
" The new bosses want to turn RadioShack into a hipper, more mainstream place for "mobility" — which is what they insist on calling the cell phone market. (In an interview, RadioShack's marketing chief used the word mobility an average of once every 105 seconds.) Selling phones is central to the new RadioShack. And so far, it seems to be working. Per-store sales are up, and corporate profits jumped 26 percent in the fourth quarter of 2009."
The article identifies 'a small subculture of RadioShack nostalgics' and their feelings of betrayal and loss. The author asserts that
"in a single generation, the American who built, repaired, and tinkered with technology has evolved into an entirely new species: the American who prefers to slip that technology out of his pocket and show off its killer apps. Once, we were makers. Now most of us are users."
It sketches the history of the brand, the importance of the high profit margin and how in a way the introduction of the TRS-80 the first mass-produced PC was the beginning of the end for the DIY mission of owner Charles Tandy. The up to 500% markup of tiny electronic components has been replaced by the cell phone which is "like a tiny slot machine that pays off month after month."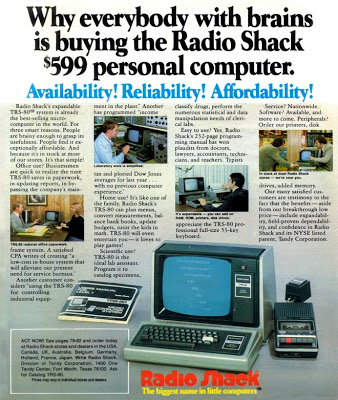 In Australia the Tandy chain was established in 1973 and finally purchased by Woolworths in 2001. Woolworths also own Tandy's one-time competitor Dick Smith Electronics (fully owned as of 1982). In 2009 Tandy stores began morphing into DSE outlets. Jaycar now remains as the most likely place to purchase electronic bits and pieces, with a wide network of stores across the country. Hunting down rarer semiconductors, components like toroids, hardware and even wire is often easier via US speciality suppliers like 'The Wireman' etc.